After finishing it almost one week ago, I've finally got my thoughts written up…
Warning: Ending Spoiler!! [All my posts contain spoilers, but this is the ending, so an extra warning message ^__^]
Omg…the ending of this episode was so…=___=;; not watchable!! They added in some stupid stuff which left me with the oddest feeling after watching it; a sense of dissatisfaction as if it had ruined my impression on the story as a whole because they made it comical and musical *sigh* I really didn't like it…
Getting back on to the story..
Bernice convinces Sharon to leave Sky One Tribe with her to declare peace between the Bloody Shadow Clan and the "Good" people; thinking it would bring an end to all killing.. Of course, this was part of Bernice's father's plan in luring them out and he ends up killing the 7 groups, and Sharon in the process. Even though Sharon was injured, she managed to put up a good fight with Bernice's father..Sharon doesn't end up having any final words, and dies in Kevin and Bosco's arms..(I knew Sharon would die, but I thought she would be able to say a few words before she did. We also didn't see Bosco and Kevin's crying scenes or grieving over her death..I would really liked to have seen that; instead, the in next scene, we see Kevin at Sharon's grave). Quite sad though because they went through so much to save her, yet at the end she couldn't live.. =(
I'm surprised Shirley didn't get injured since she can't fight, I would have thought she would have been there for a purpose, but I guess not. Its cool anyway, I like seeing all the main character together and on one side. I also didn't like how the 7 groups didn't have much reaction when the Sword brother attacked Sharon…those 7 groups were so useless..Bernice's father is totally corrupted. How can he rule Wulin when everyone is pretty much gone?
Bernice leaves them after she convinces Sharon …

Bosco tells Shirley that he wants to delay their wedding, but promises her that he will marry her.

Bosco and Sharon tell the Tribe leader they would be leaving the village to finish off the Wulin matters. Shirley leaves with them.

Day the agreement goes ahead. As Sharon is about to sign, the Sword brother attacks Sharon.

They have realised they have fallen in Bernice's father's trap.

Bernice holds off her father for a bit so they could escape, too bad it wasn't for long..

Sharon's assistant gets killed by Bernice's father

Sharon dies in the arms of Bosco and Kevin.

Bernice grabs onto her father and they successfully escape.

The tribe people saves Bosco's life 
With the help from Bernice: Kevin, Bosco and Shirley were able to escape back to the Sky One Tribe. Bernice's father ends up putting poison in their river to force the Sky One Tribe people to come out. Having three days left before they run out of water (from their well), Kevin and Bosco discover the most powerful fighting techniques at Sky One Tribe whom the people there do not value (The Sky One Tribe people don't fight and live in peace). Within two days, the two learn various martial arts/ techniques. This is too unrealistic..as Kevin said; there were so many books and pages; it would take them more than 2 days to read (and where do they get the time to learn and master the techniques?) They eventually found the weakness for the '7-person-ultimate attack' (which Bernice's father has mastered by himself now); and the two fight Bernice's father. If its that hard to learn, why is it so easy to defeat? They lured him into using the 7th stage in that ultimate attack and eventually Bernice's father blows up and explodes… While they were luring him to use the technique, Bosco and Kevin used various powerful martial arts, constantly throwing new attacks on him. When Bernice's father asked where they learnt it from, we see a separate clip of Kevin and Bosco advertising the book to the audience (such randomness..) The final battle was very light-hearted…

Sharon's grave..
Bosco and Kevin realises the guy selling fish has very awesome chopping techniques.

Kevin and Bosco realises the Sky One Tribe has the technqiues to many poweful martial arts that have been 'lost' for along time.

Kevin and Bosco looks at their 'notes' (techniques); they are worried they would forget. Bernice's father waits for their arrival.

[The advertisement]
The kamehameha – famous for its creation in DragonBall Z… XD


The two find the wekness to the 7-person ultimate technqiue

Bernice's father uses the 7th step and explodes..

[Several years later…]

Bosco's brother performing at their restaurant.

Bosco gave wayne a new grave?

Bosco teaching the Sky One tribe people technqiues to protect themeselves (or was it for a better health? I forgot XD)

Bosco and his son

We get the weird dancing and singing from Bosco's brother and mother who appear to have set up their own restaurant as they retell the stories of Bosco and Kevin. We learn that Kevin left and brought Sharon's ashes with him and released her. Bosco then appears and Bosco's brother start advertising merchandise of dolls etc of Bosco and the others and tries to sell them to the customers. (I wonder if they are real merchandise for sale which TVB is trying to promote) I'm a bit confused with this part actually..Bosco's son runs in with Bernice coming in after, so it appears that the two have gotten together, but I think it turns out to be Shirley's son. Something happens, and Bernice leaves…Bosco tells his brother that he'll be meeting up with Bernice for a night snack..the remaining characters start dancing on the streets…and yeh…that's pretty much how it ends..this is what I call randomness…the characters went 'out-of-character' and they even sung with English words in there o.0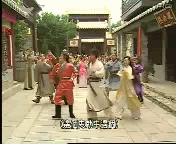 Animation created by bigmonster321
36 Responses to "[Devil's Disciples] Episode 20- Final Episode Thoughts!"