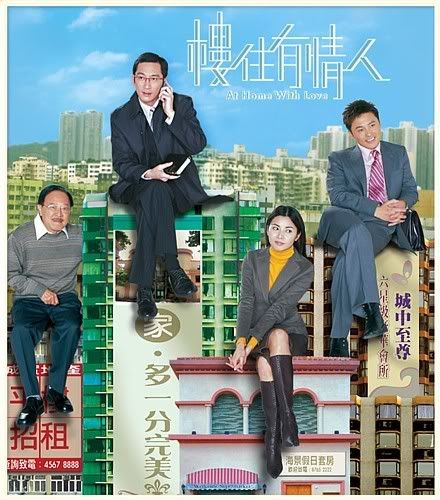 Title: At Home With Love (Lau Ju Yau Ching Yan)
Casts: Lawrence Ng, Yoyo Mung, Chung King Fai, Raymond Cho, etc.
Length: 20 episodes (Cantonese) // 15 tapes (Vietnamese)
Release Date: October 2006 (Canto) // December 2006 (Viet)
Genre: Modern Drama/Romance
Synopsis:
A mansion is easily acquired
A lover is difficult to pursue
Chung Chi Leung (Lawrence Ng Kai Wah) and Tsui Ji Ling (Yoyo Mung Ka Wai) become lovers because of Leung's father, Chung Bong (Chung King Fai). After Bong retires, he hands his real estate company to Leung. Originally, Ling is Bong's good friend and he introduces her to be Leung's broker. After awhile, she becomes Leung's girlfriend.
The relationship between Bong and Leung has never been good. In the mainland, Bong has a girlfriend. This causes the two to enter a "cold war." Luckily, Ling is there to mediate between them. Just that later, Ling changes and values money above all else. She even leaves the real estate company for money, leaving Leung to face the work alone…
Synopsis Translations credits to: MetalAZNWarrior from TVBMusing
============================================================
Adjustments to the synopsis given by TVB:
At the beginning of the series, Bong (Chung King Fai) has already retired. Lawrence and Yoyo don't become lovers because of Chung King Fai, they fell in love with each other naturally. Bong and Leung's relationship were pretty good, but its because of Leung's overly concern for his father, and his father thinking his son doesn't trust him that leads them to enter the "cold war". Bong met the lady in Hong Kong but went with her to mainland, and she soon became his girlfriend.
============================================================
I quite enjoyed this series ^^ even though my first impression of it was so-so. The poster looked bland as well, and the cast doesn't look that appealing to me very much. It was a neat little modern day story with romance based around the real estate industry. I don't think its that cliche, and did have some different ideas and parts I didn't expect =) As always, watching character development and relationship build is what I really like, and it does happen in this series~
============================================================
Entries– episode synopsis, thoughts (contains spoilers):
Episode 1
Episode 2
Episode 3
Episode 4
Episode 5
Episode 6
Episode 7
Episode 8
Episode 9
Episode 10
Episode 11
Episode 12
Episode 13
Episode 14
Episode 15
Episode 16
Episode 17
Episode 18
Episode 19
Episode 20- Final

Extras:
Music Video Screencaptures
Little Ling
Characters/Casts
6 Responses to "At Home with Love 樓住有情人"